Bus Radiator Parts
Repairing your school bus radiator? We'll make it easy with our bus radiator parts. We currently have coolant tanks and coolant tubes. A Parts Warehouse also has Jiffy-fix, allowing you to purchase the complete repair and fitting kits. Our selection of coolant tubes are stainless steel and come in many styles, so you can always find the perfect match for your bus.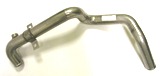 Coolant Tubes
Stainless Steel Coolant Tubes for School Bus Applications
Radiator Repair
Many of today's buses have a radiator with plastic tanks. In most cases there is a steel or aluminum fitting that passes through the plastic tank and creates a seal with the aluminum cooler inside the radiator. This fitting connects to a fluid carrying tube, which carries the fluids to the radiator to be cooled. On many buses, a Belleville washer is used to keep the connection tight. We have found that both the Belleville washer and the fluid carrying tube could potentially fail, causing fluid leaks. It is estimated that at least 50,000 buses now on the road have the potential for this problem, or already have the problem and don't know it yet. Jiffy-Fix has developed a solution to this problem. They have designed a replacement fitting and tube to OE specs, which are made from stainless steel, and will not crack or corrode. These parts will provide you with a quick, economical fix to ensure a complete, long term repair.